About the Excellence Awards
The Pennsylvania Legal Aid Network Excellence Awards honor members and friends of the legal aid community who exemplify excellence in their commitment and accomplishments as advocates for low-income people.
Nominations are made in the following categories:
Legal Services Staff
This category is for all staff positions. We are seeking nominations for employees who exhibit excellence and commitment in the performance of the duties of their jobs;
Private Bar
This category is for members of the private bar who display an outstanding commitment to legal aid and the legal needs of low-income Pennsylvanians;
Lay Advocacy
This category is for client leaders, organizational partners, or others who have donated significant time and energy to the mission of legal aid and the needs of low-income people.
Community Services
This category is for volunteers and friends who demonstrate exceptional dedication to legal aid. It may include legislators or government officials, clients, community leaders, or others who help promote the mission of legal aid.
Nominations are open to everyone. You do not have to be a member of the legal aid community to submit a nomination. You also do not have to be a member of a particular category to submit a nomination in that category. There is no limit to the number of nominations you may submit.
Nominations usually open in the last quarter of each calendar year for the awards to be made in the spring of the following year.
Specific information on nominations and a submission form will be posted here when nomination open for next year's awards.

Pennsylvania Legal Aid Network Excellence Awards
Pennsylvania Legal Aid Network Announces Recipients of 2014 Excellence Awards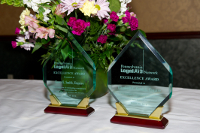 The Pennsylvania Legal Aid Network is proud to announce the recipients of its 2014 Excellence Awards.
The list includes a variety of civil legal aid professionals and friends of civil legal aid across Pennsylvania who are being recognized for their efforts in support of the clients served by the civil legal programs of the Pennsylvania Legal Aid Network.
Individuals selected to receive the 2014 PLAN Excellence Award include:
Ann Carson and Connie Kelley
Volunteer Paralegals, Neighborhood Legal Services Association

The Honorable Stewart Greenleaf
Pennsylvania State Senate
Chair, Senate Judiciary Committee

David L. Hill, Esquire
Philadelphia Legal Assistance

Harvey F. Strauss, Esquire
Legal Aid of Southeastern Pennsylvania

Linda L. Timberlake, Esquire
MidPenn Legal Services

Kenneth N. Try
Paralegal, McNerney, Page, Vanderlin & Hall

Hon. John Uhler
Court of Common Pleas of York County; and
Robert Woods
Executive Director, United Way of York County

John S. Whitelaw, Esquire
Community Legal Services

Merril L. Zebe, Esquire
Public Interest Coordinator, Philadelphia Bar Association
There will also be a special recognition of the clients who participated in the Pennsylvania Senate Hearings on Access to Justice.
The 2014 Excellence Awards will be presented at the annual awards dinner on Tuesday, March 18, 2014, at the Harrisburg Hilton & Towers. A social hour will take place from 5:00 PM to 6:00 PM, immediately followed by a buffet dinner.
The Keynote Speaker for the evening will be The Honorable Thomas G. Saylor, Supreme Court Justice of Pennsylvania.
Advertising and Sponsorship Opportunities
2014 Excellence Award Dinner Reservations
---
If you have any difficulty making reservations or securing advertising and sponsorship opportunities through the above links, please use our
alternate sign up page
.