Pennsylvania Legal Aid Network Excellence Awards
Pennsylvania Legal Aid Network Announces 2015 Excellence Awards Honorees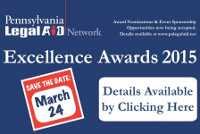 The Pennsylvania Legal Aid Network (PLAN) is pleased to announce the winners of the 2015 Pennsylvania Legal Aid Network Excellence Awards. The statewide awards for excellence will be presented at the PLAN Excellence Awards banquet on Tuesday, March 24, 2015, at the Harrisburg Hilton, One North Second Street, Harrisburg, PA 17101
Pennsylvania Supreme Court Justice Debra McCloskey Todd will be the featured speaker at the event.
The mission of the Pennsylvania Legal Aid Network is to ensure equal access to justice so that Pennsylvanians can have representation, when facing important civil legal concerns, affecting their safety, health, shelter and survival. Each year, PLAN requests nominations from across the Commonwealth and honors individuals, groups, and/or organizations that have established excellence and diligence improving the availability and quality of civil legal services for low income people and victims of domestic violence in Pennsylvania.
The recipients of the 2015 Excellence Awards are:
Carl W. Bailey, Linda A. Bergman, Carol Collington, Minta Livengood and Dorothy Young
Executive Committee of the Coalition for Affordable Utility Service and Energy Efficiency in Pennsylvania (CAUSE-PA)

Deborah L. Freedman, Esq.
Deputy Director of Legal Practice, Community Legal Services, Philadelphia, PA

Sharon Goldsmith
Executive Secretary, Neighborhood Legal Services Association, Pittsburgh, PA

The Honorable Alan D. Hertzberg
Court of Common Pleas Judge of Allegheny County, Pittsburgh, PA

Jennifer L. Heverly, Esq.
Attorney, North Penn Legal Services, Williamsport, PA

Diana Ingersoll, Esq.
Attorney, MidPenn Legal Services, Altoona, PA

Michael Lee, Esq.
Private Attorney Volunteer, Philadelphia Lawyers for Social Equity, Philadelphia, PA

Merck & Co., Inc. Pro Bono Program
Kenneth C. Frazier, CEO; Bruce N. Kuhlik, General Counsel, Whitehouse Station, NJ

Jonathan Pyle, Esq.
Contract Performance Officer, Philadelphia Legal Assistance, Philadelphia, PA

Lawrence A. Swanson
Executive Director , ACTION-Housing, Inc., Pittsburgh, PA
Event tickets may be purchased online at the link below. Please contact Joyce Tomasko at jtomasko@palegalaid.net or 800-322-7572 for more information about this event.
For information about Sponsorship and Advertising Opportunities please contact Christine Kirby at ckirby@palegalaid.net or 412-586-6137.

Click here for Online Ticket and Sponsorship Information
Click here to Download Ticket and Sponsorship Information