About the Excellence Awards
The Pennsylvania Legal Aid Network Excellence Awards honor members and friends of the legal aid community who exemplify excellence in their commitment and accomplishments as advocates for low-income people.
Nominations are made in the following categories:
Legal Services Staff
This category is for all staff positions. We are seeking nominations for employees who exhibit excellence and commitment in the performance of the duties of their jobs;
Private Bar
This category is for members of the private bar who display an outstanding commitment to legal aid and the legal needs of low-income Pennsylvanians;
Lay Advocacy
This category is for client leaders, organizational partners, or others who have donated significant time and energy to the mission of legal aid and the needs of low-income people.
Community Services
This category is for volunteers and friends who demonstrate exceptional dedication to legal aid. It may include legislators or government officials, clients, community leaders, or others who help promote the mission of legal aid.
Nominations are open to everyone. You do not have to be a member of the legal aid community to submit a nomination. You also do not have to be a member of a particular category to submit a nomination in that category. There is no limit to the number of nominations you may submit.
Nominations usually open in the last quarter of each calendar year for the awards to be made in the spring of the following year.
Specific information on nominations and a submission form will be posted here when nomination open for next year's awards.

2014 Pennsylvania Legal Aid Excellence Awards - Remarks of Justice Thomas G. Saylor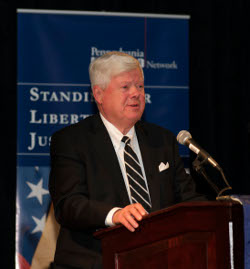 Below are the remarks of the Honorable Thomas G. Saylor, Justice of Supreme Court of Pennsylvania made at the PLAN Excellence Award Dinner on on Tuesday, March 18, 2014.
---
JUSTICE SAYLOR: I have long believed that one of the measures of a just society is its degree of concern for the less fortunate among it. I have also long espoused the notion that one of the values which defines the legal profession's basic and traditional responsibilities is an obligation to ensure the adequate distribution of legal services. Because law pervades all significant social arrangements and institutions, legal services must be widely available to the citizenry.
The measure of support which the Pennsylvania Legal Aid Network enjoys among the bench and organized bar of this Commonwealth, as well as the leadership in our legislature, is evident from the list of this evening's honorees and those in attendance at this celebration of their contributions toward legal services and access to justice throughout Pennsylvania.
When I have the occasion to speak with law students, I always commend that they consider spending a portion or indeed all of their career in public service whether it be government, the defender's office, legal services or public interest law, as the professional satisfaction often transcends that of private practice. Unfortunately, however, the increasing cost of legal education is making it more difficult for law school graduates to pursue these alternative career paths. That is one of the reasons that our Court enabled the establishment of the Loan Repayment Assistance Program (LRAP) to provide loan forgiveness for attorneys working for legal service agencies.
The LRAP is administered by the Pennsylvania Bar Foundation under a grant from the IOLTA Board funded by pro hac vice admission fees. The initial three-year grant provided over $860,000 of loan repayment assistance to 116 attorneys employed full-time by IOLTA-supported legal service organizations, and the Court has approved a subsequent three-year grant for the calendar years 2014-2017 in an amount slightly over $1 million.
I also tell young lawyers aspiring to public service that they will occasionally have opportunities to advance the law which are not typically available in a private practice setting, and that they never know where their cause and client may take them. I would like to illustrate this point with a story. It's a story about a lawyer, Louis Lusky, and a client, Sam Thompson.
Louis Lusky was a prominent professor at Columbia Law School and a pioneer in the field of civil rights law, and I was fortunate to have been a student in his constitutional law class. After graduating from Columbia Law School, he clerked for Justice Harlan Fiske Stone on the United States Supreme Court and then returned to practice in his hometown of Louisville, Kentucky, where he also did pro bono work for what was then the Kentucky Civil Liberties Union.
In the 1950s, the City of Louisville, like many other cities, particularly in the south, had so-called anti-loitering ordinances which were often used for racial harassment. In 1959, an elderly black man named Sam Thompson was waiting for a bus on a Saturday evening at the Liberty End Café in Louisville. He wasn't bothering anyone and he passed the time shuffling his feet in rhythm with the music from the jukebox. Two police officers entered the café, and seeing Thompson, accosted him and asked him his reason for being there to which he replied that he was waiting for a bus. The officers then arrested him for loitering.
When Sam Thompson appeared in the Louisville Police Court to answer this charge, he was accompanied by his counsel, Louis Lusky.
I remember Professor Lusky telling this story to his class some 45 years ago. He recalled that the Police Court Magistrate said something to the effect of "Oh Lusky, you're here again. What are you going to do? Make a federal case out of this?" To which Lusky responded "I just might." The Police Court convicted the defendant of loitering and fined him $10.
In 1959, Police Court fines of less than $20 on a single charge were not appealable or otherwise reviewable in any other Kentucky Court. Thus this judgment constituted a ruling by the highest state court having jurisdiction over the matter.
Louis Lusky was therefore able to petition the United States Supreme Court for certiorari which the Court granted. In the years since I first heard this story, I have occasionally tried to imagine the reaction of that Police Court Magistrate in Louisville when he opened his mail one day and found a writ from the nation's highest court ordering him to send his scant record to Washington, D.C.
In a relatively brief and unanimous opinion, authored by Justice Black, the United States Supreme Court held that the charges against the Petitioner were so totally devoid of evidentiary support as to render his conviction unconstitutional under the due process clause of the 14th Amendment. The name of this landmark case is Thompson v. City of Louisville.
This simple principle, that it is a violation of due process to convict and punish a man without evidence of his guilt, is enshrined in our pantheon of constitutional values thanks to the efforts of a young legal aid lawyer.
And so, as you work each day to ensure equal justice for all, you truly never know where your cause and client might take you.