PLAN Statewide Training Conference
2016 Pennsylvania Legal Aid Conference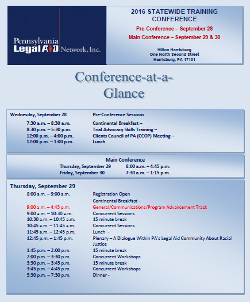 The 2016 Pennsylvania Legal Aid Network Conference will take place on September 29-30, 2016 at the Hilton Harrisburg. The conference will feature many helpful workshops for legal services staff, board members and other friends of the legal services community. CLE credits are available for attorneys who attend qualifying sessions.
Registration Information:
Registration is free to staff or client board members of the following PA Legal Aid Network (PLAN) programs: CJP, CLS, FoF, LLS, LASP, MPLS, NLSA, NPLS, NWLS, PHLP, PILP, PLA, PULP, RHLS and SPLS. Registration includes meals and conference materials. Registration for staff of non-PLAN public interest, government or other nonprofit organization is $175.00. The cost for all other registrants is $350.00.
CLICK HERE TO VIEW THE CONFERENCE SESSIONS AT A GLANCE for more information on the workshops offered at the conference.
CLE Credits
This program has been approved by the Pennsylvania Continuing Legal Education Board for of 8.5 hours of substantive law, practice and procedure CLE credit and 5.0 hours of ethics, professionalism or substance abuse CLE credit.
A Pre-Conference Trial Advocacy Skills Training program will be held on September 28, 2016. This Pre-Conference program has been approved by the Pennsylvania Continuing Legal Education Board for 7.0 hours of CLE credit substantive law, practice and procedure. A separate registration is required as the session is limited to 20 participants.
More Information on the Pre-Conference Trial Advocacy Program.
Hotel Accommodations
The cost for a hotel room is $136 per night plus tax, for single or double occupancy and $10 for self parking. To receive hotel reservations at the conference rate, PLAN Member Program staff must check the box on the registration indicating they will need a room for whichever nights are needed.
Registrations requesting hotel accomodations must be submitted by September 9, 2016 to guarantee a room within the conference block of rooms.
For staff members of PLAN Network programs, room, tax and self-parking will be direct billed to PLAN and our fiscal department will reconcile later with your program.
If you are a not affiliated with a PLAN member program please indicate your overnight needs on the registration and PLAN will make the reservation for you, but you will need to provide payment for the room on your own.
PLEASE NOTE:
The hotel will require a credit card from guests upon check-in to cover incidentals and other costs not billed to PLAN to be covered by PLAN Programs. Some attendees will be exempt from this as notified by PLAN Staff to the Hilton prior to arrival.

The Hilton Harrisburg is a non-smoking hotel.
Cancellation Policy
There will be a fee of $50 charged for all cancellations received after September 21, regardless of whether it is a "legal aid network registration" or a "non-legal aid registration.
You will be charged for the first night if reservations are not canceled within 24 hours prior to arrival.
Register for the 2016 PLAN Conference